Disclaimer
De meningen ge-uit door medewerkers en studenten van de TU Delft en de commentaren die zijn gegeven reflecteren niet perse de mening(en) van de TU Delft. De TU Delft is dan ook niet verantwoordelijk voor de inhoud van hetgeen op de TU Delft weblogs zichtbaar is. Wel vindt de TU Delft het belangrijk - en ook waarde toevoegend - dat medewerkers en studenten op deze, door de TU Delft gefaciliteerde, omgeving hun mening kunnen geven.
Posts in category
Open Education
Today the Open Education Consortium announced the winners of the 2018 Open Education Awards for Excellence, in the categories of open resources, tools & practices. I'm very excited in general about all of this years winners. So congrats to all! Most of all I am very proud to be able to share that with todays announcement TU Delft received its second Open Education Award of 2018, for our efforts in integrating openness in the TU Delft Strategic framework 2018-2024.
Open Education Award for Open Policies
This award illustrates our commitment as a university towards openness, not only in education but in the broad range of activities we aim to achieve in the coming 6 years.
During the Open Education Week 2018, we organised a succesful Open Education Seminar, where all TU Delft participants actively discussed what next steps could be to continue bringing openness to everyday practice even more.
For me, this award also reflects how openness has grown towards a stronger maturity in the last 10 years. In 2007 TU Delft started its first steps in open education. Looking at what we achieved in the past almost 11 years https://ocw.tudelft.nl/10-years/ this award and our efforts towards integrating openness in all layers of our organisation makes me proud.
Educator Award for Felienne Hermans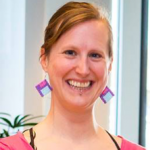 And earlier this year the individual award winners were announced. Felienne Hermans will recieve the Educator award for her efforts in opening up access to programming education. To be honoust, this almost needs no introduction. The Open Education Consortium press release says enough. Congrats Felienne!
OE Global 24-26 April
With just about a month to go, we are excited to get closer and closer to the OE Global conference, which we may host this year. Looking forward to a great conference, where amongst others the awards will be handed over to the rightful owners.