Disclaimer
De meningen ge-uit door medewerkers en studenten van de TU Delft en de commentaren die zijn gegeven reflecteren niet perse de mening(en) van de TU Delft. De TU Delft is dan ook niet verantwoordelijk voor de inhoud van hetgeen op de TU Delft weblogs zichtbaar is. Wel vindt de TU Delft het belangrijk - en ook waarde toevoegend - dat medewerkers en studenten op deze, door de TU Delft gefaciliteerde, omgeving hun mening kunnen geven.
Posts by
Martijn Ouwehand
Two weeks ago, April 22-24, I attended the annual Open Education Global Conference in Banff, Alberta. I went there for a couple of reasons. It was a great opportunity to share out experiences at TU Delft Online Learning on Open & Online Education with the Open Education community, but also to experience the current status of Open Education Worldwide.
The things I did…
We started the conference on Tuesday, where Willem van Valkenburg and me offered a big part of the Pre Conference Workshop 'Getting Started with Open Education – a crash course on starting an open education project'. It is always great to help other institutions get their projects going, based on our own experiences. I noticed that, in contrast to the same workshop we organised last year, the participants were a lot further in the process of starting up an open education project.
On Wednesday I shared our experience in how we handle(d) sublicensing our DelftX MOOCs while at the same time sharing our MOOC contents under an Open License. It was a tough nut to crack, but we managed. And I got quite some responses on my presentation as well, like:
"Though Provoking work fr @gouwehand in tension beta. revenue generation & Creative commons license i#MOOCs #oeglobal" – @fieldingGrasty

"Great Presentation from @Gouwehand on breaking down the open and non-open components that make up MOOCs #oeglobal" – @sunnywidmann
Lastly, I took part in the Action Lab on MOOCs, Where Willem shared our experiences with MOOCs.
And oh yeah, we we have been awarded no less then 3 Open Education Awards for Excellence, which make us proud! Unfortunately not all winners were able to attend the Award ceremony, but we will make sure that the awards will reach them – and give them (Alexander de Haan, Jaap Daalhuizen and David Abbink and their course teams) all the credit they deserve.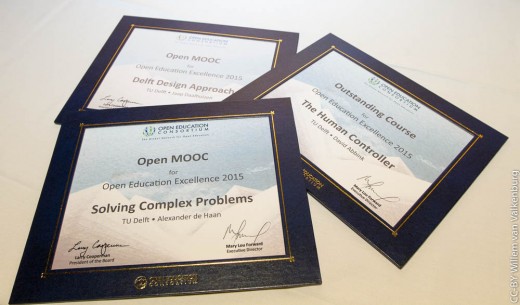 My key take aways
At first I found it hard to put my finger on what was the current state of affairs around Open Education. But now that the conference is over and there has been some time to reflect, I came up with four take aways from this year's conference:
As I mentioned last year, the Open Education movement seems to have reached a steady level of maturity. I've attended quite some presentations where the more advanced issues were tackled, like how to deal with self learners who want to earn college credits for open education achievements. There were not a lot of start up project presentations that I've seen. This is a good thing to notice, but does raise the question what's next.
'MOOC' is no longer a dirty word to use in the Open Education Community. Last year the OpenCourseWare Consortium changed its name to Open Education Consortium, since the scope has changed worldwide. MOOCs back then were considered different, but now seem to have been embraced as one of the ways to empower learners to learn. Which is a good thing! Still, the 'O' which should stand for 'Open' is still a thing… 'Open MOOCs' seemed to be a normal term, which is odd. Still, the 'O' of Open is not easy, considering my presentation.
There is a need for Open Education practices. I think during his keynote speech Dirk van Damme nailed the message, which is supported by David Wiley in his blog: Why do we want everyone to share there educational resources? And why do we feel a need to reuse, revise, remix and redistribute educational resources? It was all meant to support and empower learners to learn, learn more and in a better way. Perhaps we miss that part sometimes as we're all busy in the process of getting to that point. But we shouldn't forget what we're doing it all for.
At TU Delft Online Learning, we're doing the right things, in the right way. I'm not the bragging type, but TU Delft Online Learning is doing something right. We've been awarded for 3 awards, with (after a raw count) brings us to 10 in total during the past 5 years the Open Education awards for Excellence have been issued. We showed that we have a lot of experience to share and that we have an organisation, vision and strategy to really make an impact.
Next year the conference will take place in Krakow, Poland. I wonder if we'll be able to share or learn from experiences with Open Education Practices.